Westlake Village, California, nestled at the foot of the Santa Monica Mountains, is a picturesque community that offers a unique blend of urban convenience and natural beauty. This charming city, which straddles the borders of Los Angeles and Ventura counties, is an ideal destination for those seeking a peaceful retreat, complete with scenic lakes and world-class golf courses.
A Tale of Two Lakes: Westlake and Sherwood
Westlake Village is aptly named for its two stunning lakes, Westlake and Sherwood, which serve as the focal points of the community. These lakes provide an idyllic backdrop for numerous recreational activities that cater to both residents and visitors. Along with its lakes, Hidden Valley features prominently with its natural beauty and unique landscapes have made it a popular filming location for several iconic movies.
---
The 125-acre man-made Westlake Lake is an integral part of the city's landscape. Surrounded by upscale homes, shops, and restaurants, this tranquil body of water offers a picturesque setting for boating, sailing, and fishing. The Westlake Yacht Club, situated on the lake's eastern shore, is a hub of activity and community events, including sailing races and regattas….more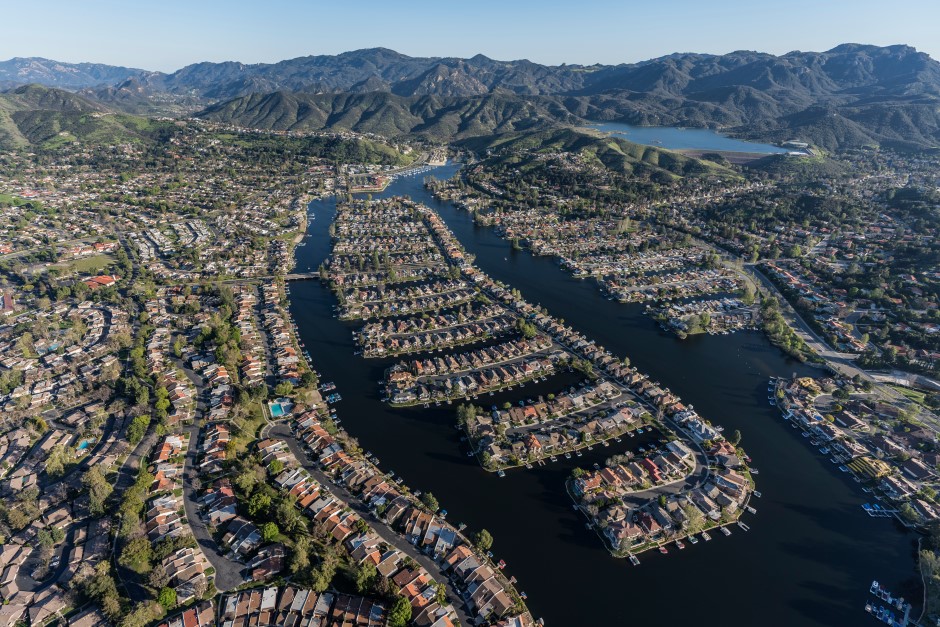 Lake Sherwood, located just south of Westlake Village, is a smaller, more secluded lake that exudes a sense of serenity and exclusivity. This private lake is surrounded by lush vegetation and luxurious homes, making it a perfect getaway for those seeking solitude and natural beauty….more
This tranquil retreat within the Santa Monica Mountains National Recreation Area offers visitors a serene escape filled with natural beauty, rich history, and recreational activities such as hiking, birdwatching, fishing, and kayaking. Experience the enchanting landscape and the 19th-century engineering marvel of Banning Dam while fostering environmental consciousness and preservation….more
Hidden Valley, a picturesque community nestled in the heart of Westlake, California, has long captured the attention of Hollywood filmmakers and celebrities alike. Boasting a rich history and blessed with natural beauty, the area has served as an idyllic backdrop for iconic movies and a tranquil retreat for stars seeking respite from the bustle of the entertainment industry. With its unique blend of history, scenery, and Hollywood glamour, Hidden Valley remains a shining gem in the Westlake landscape….more
Tee Time: Westlake Village's Premier Golf Courses
Golf enthusiasts flock to Westlake Village for its impressive array of golf courses, which cater to players of all skill levels. From picturesque public courses to exclusive private clubs, Westlake Village offers something for every golfer.
Westlake Golf Course, designed by renowned architect Ted Robinson, is an 18-hole, par 67 public course that boasts well-manicured greens and fairways. With a mix of challenging holes and picturesque water features, this course offers an enjoyable and rewarding golfing experience for players of all skill levels….more
North Ranch Country Club, a private club located in the rolling hills just north of Westlake Village, features three impeccably maintained 9-hole courses designed by architect William F. Bell. The club offers a variety of membership options, including golf, tennis, and social memberships, to cater to the diverse interests of its members….more
Sherwood Country Club, an exclusive private club nestled in the gated community of Lake Sherwood, offers a Jack Nicklaus-designed 18-hole, par 72 championship golf course. Known for its immaculate conditions and challenging layout, this course has hosted numerous high-profile events, including the PGA Tour's Shark Shootout and the annual Tiger Woods World Challenge….more
Rated 4 1/2 Stars by Golf Digest, Los Robles Greens Golf Course's par-70, 6,300-yard championship layout was designed by golf course architect William F. Bell in the old style, leaving the terrain completely natural. Towering oaks frame pristine rolling fairways and undulating greens, with beautiful water features, unique bunkering and panoramic mountain views creating both strategic diversity and a stunning backdrop for golf. Known for its outstanding conditioning and playability, the course offers multiple tees on each hole, enabling golfers of all ages and abilities an opportunity to enjoy this spectacular Conejo Valley golf gem….more
With its sparkling lakes and world-class golf courses, Westlake Village, California, is truly a haven for nature lovers and sports enthusiasts alike. Whether you're a seasoned golfer or simply looking for a picturesque spot to unwind, this charming community offers a wealth of recreational opportunities and breathtaking scenery that will leave you feeling rejuvenated and inspired.