The Westlake Golf Course is an 18-hole, par-67 golfing destination that continues to attract golf enthusiasts and visitors from all over the world. This beautifully designed course, which has been a staple in the community since 1967, offers golfers of all levels an opportunity to enjoy a challenging and serene golfing experience. Surrounded by lush greenery and a tranquil atmosphere, Westlake Golf Course is a true gem in Southern California.
Course Layout and Design
Designed by Ted Robinson Sr., Westlake Golf Course is a meticulously crafted and maintained course that is a delight for players of all skill levels. Spanning over 5,005 yards from the longest tees, the course offers a blend of tight fairways, strategically placed hazards, and undulating greens, which provide a variety of challenges and opportunities for every golfer.
The front nine is composed of tree-lined fairways, which require accuracy and shot selection, while the back nine is more open, allowing players to grip it and rip it. The course also features four different tee boxes, ensuring that golfers can find a suitable level of difficulty for their abilities.
Amenities and Services
Westlake Golf Course offers an array of amenities and services designed to cater to the needs of golfers and visitors alike. The fully-stocked pro shop carries a wide range of golf apparel, equipment, and accessories from top brands such as Titleist, TaylorMade, and Callaway. For those looking to improve their game, the course also offers professional golf instruction through the Westlake Golf Academy. Led by experienced PGA instructors, the academy provides personalized lessons, clinics, and junior programs, ensuring that golfers of all ages can sharpen their skills.
The course also boasts a driving range, putting green, and chipping area, which allow golfers to fine-tune their game before or after their round. For those who wish to relax and unwind, the onsite Bar & Grill offers a casual dining experience with a diverse menu, featuring delicious appetizers, salads, sandwiches, and more.
Events and Tournaments
Westlake Golf Course is also a popular choice for hosting golf tournaments, corporate outings, and charity events. The professional staff is dedicated to assisting with event planning, organization, and catering, ensuring a seamless experience for all participants. The course also hosts a variety of local and regional competitions throughout the year, catering to golfers with a competitive spirit.
With its enchanting surroundings, well-designed course layout, and top-notch amenities, Westlake Golf Course has established itself as a premier golf destination in Southern California. Whether you're a seasoned golfer or a beginner looking to enjoy a relaxing day on the greens, Westlake Golf Course is a must-visit for anyone seeking a memorable golf experience in Westlake Village.
Westlake Golf Course
4812 Lakeview Canyon Rd.
Westlake Village, CA 91361
(818) 889-0770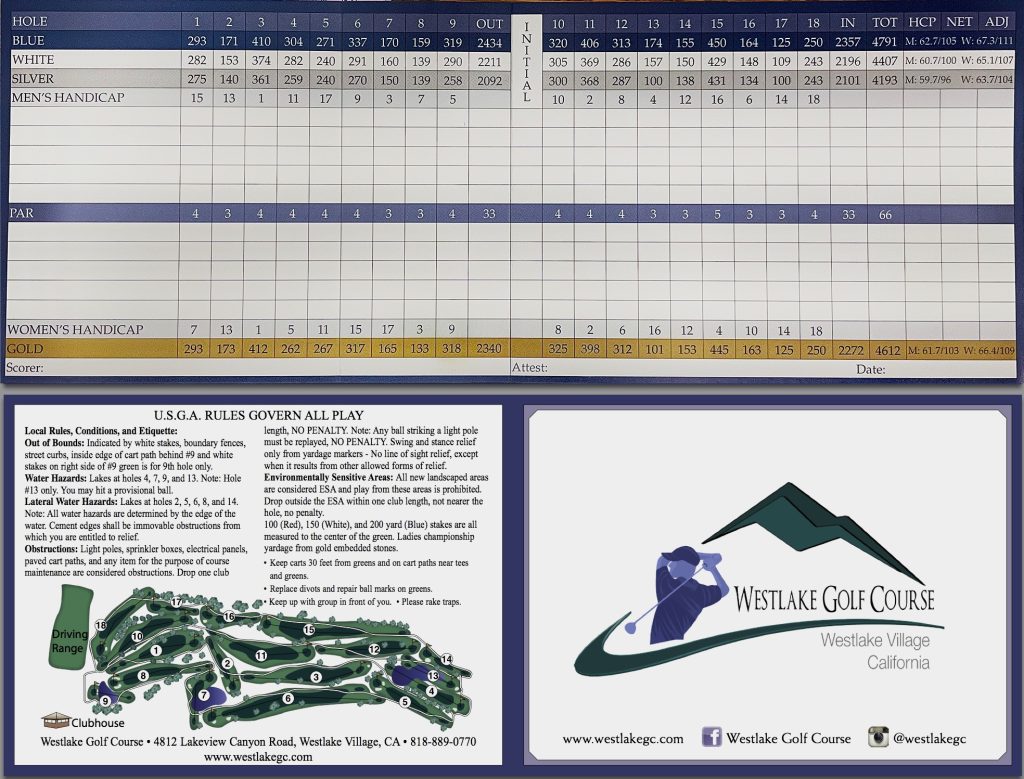 Directions
From the 101 South: 
Exit CA-23 Westlake Blvd. Turn right onto Westlake Blvd. Make a left onto Townsgate Rd. Follow that road until it ends. The golf course parking lot will be directly in front of you.

From the 101 North:
Exit Lindero Canyon Rd and make a left onto that street. Turn right onto Agoura Rd. Turn Right onto Lakeview Canyon Road. The parking lot will be on your right hand side once you reach Townsgate Rd.
Location
Our entrance is located at the cross streets of Lakeview Canyon Road and Townsgate Road in Westlake Village.