Los Robles Greens Golf Course
Los Robles Greens Golf Course is a true gem for both casual and professional golfers alike. With its stunning landscapes, challenging layout, and environmentally conscious design, this public golf course has won the hearts of golf enthusiasts from all around the world. In this article, we will delve into the unique features and offerings that make Los Robles Greens such an exceptional destination for golfers of all skill levels.
Course Design and Layout
Los Robles Greens Golf Course was thoughtfully designed to challenge golfers while showcasing the natural beauty of Southern California. This 6,274-yard, par-70 course boasts a mix of challenging holes that require strategic thinking and precise execution. The tree-lined fairways, well-placed bunkers, and undulating greens make each hole a unique and engaging experience. Water features and natural hazards blend seamlessly into the landscape, ensuring that golfers are constantly tested and rewarded for their skills.
Environmental Commitment
Los Robles Greens is not just a beautiful golf course, but also a model for environmental sustainability in the golfing world. The course is managed using eco-friendly practices, including reclaimed water for irrigation, reducing water consumption, and utilizing drought-tolerant native plants. In 2015, Los Robles Greens achieved the prestigious Audubon Cooperative Sanctuary Program for Golf certification, a testament to their commitment to environmental stewardship and conservation.
Practice Facilities and Amenities
Los Robles Greens offers a range of practice facilities for golfers to hone their skills. The expansive driving range, complete with grass tees and a target green, provides an excellent space to work on your swing. The short game area, which includes a putting green and a chipping green with a practice bunker, is perfect for refining your touch around the green.
In addition to the superb practice facilities, Los Robles Greens also features a well-stocked pro shop, ensuring that golfers have access to the latest equipment and apparel. The friendly and knowledgeable staff is always on hand to assist with club fittings, lessons, and any other golfing needs.
Dining and Events
After a round of golf, players can enjoy a delicious meal at The Oaks Bar & Grille, which offers a diverse menu of delectable dishes and refreshing beverages. With indoor and outdoor seating options, it's an ideal spot to unwind and reminisce about your round.
Los Robles Greens is also a popular venue for hosting events, including weddings, corporate outings, and charity golf tournaments. The elegant banquet facilities, coupled with the stunning backdrop of the golf course and surrounding hills, make it a truly memorable location for any special occasion.
Los Robles Greens Golf Course offers an unparalleled golfing experience in Southern California. With its challenging design, environmental commitment, exceptional practice facilities, and inviting atmosphere, it's no wonder that golfers from near and far flock to this beautiful oasis. Whether you're a local looking for a weekend escape or a visitor seeking a memorable golfing experience, Los Robles Greens should be at the top of your list.
299 S Moorpark Road, Thousand Oaks, CA 91361
(805) 495-6421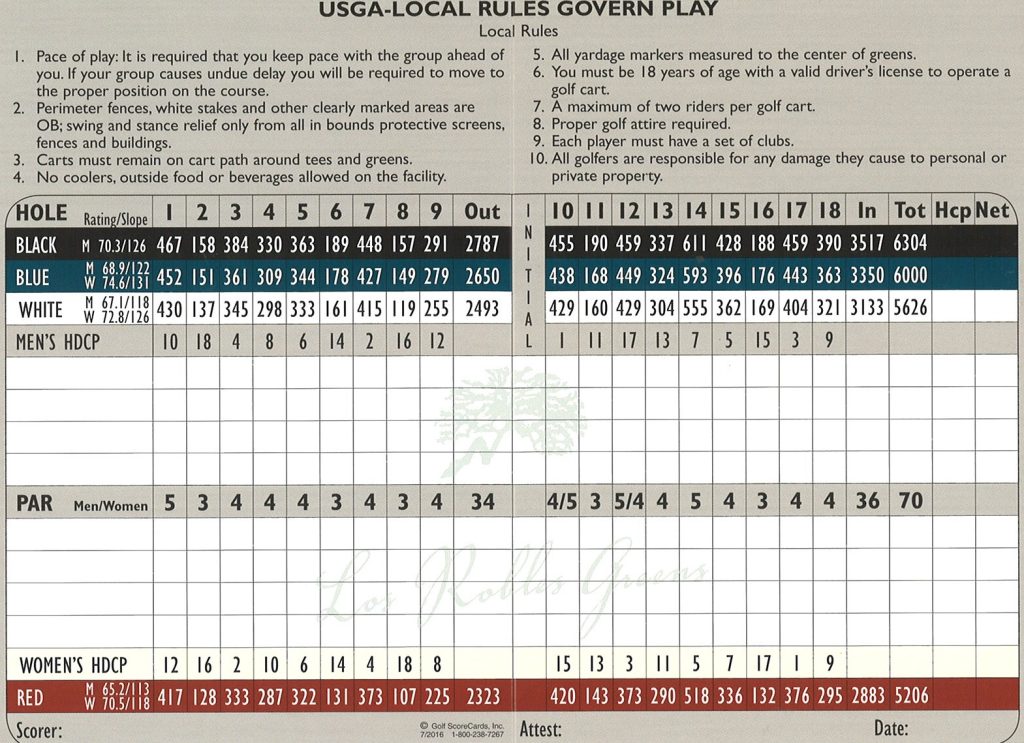 ---
Golf Cart & Pull Cart Fees
18 Hole Cart Fee: $18.00 per rider
Twilight Cart Fee: $12.00 per rider
Pull Carts: $6
Twilight begins at 2:00pm (March – October) or 12:00pm (November – February)
Super Twilight begins at 4:00pm (March – October) or 2:00pm (November – February)
Thousand Oaks Resident Card
Resident Golf Cards can be purchased at Los Robles Greens as of March 1st, 2018. The fee is $15 and is good for year from the date of purchase.  In order to purchase a resident card, you must provide proof of residency by driver's license or utility bill and live in zip codes 91360, 91361, 91362, or 91320.  Members of the Los Robles Greens Men's, Women's, Senior, or Arcis Players Club can also purchase resident cards.  The resident card entitles you to book tee times eight (8) days in advance. It also entitles the card holder 20% off posted or online green fees.  Discount does not apply to cart fees, tournament, league or promotional rates.
Tee Time Reservations
General tee time reservations can be made up to eight (8) days in advance for Residents Card holders.  Resident rates apply to Resident Card holders only. Non-residents can book tee times seven (7) days in advance. Phone reservations will be taken beginning at 6 a.m. daily by calling (805) 495-6421.
Golfers must check in with the golf shop at least 15 minutes prior to the reserved time, or the reservation may be forfeited. If the reservation is forfeited, the players on the waiting list.