Triunfo Creek Park Canyons
Nestled in the heart of Westlake Village, California, lies a hidden treasure for nature enthusiasts and outdoor adventurers: the Triunfo Creek Park Canyons. This 600-acre park, situated in the Santa Monica Mountains, offers a diverse landscape of rolling hills, oak woodland, and serene meadows, making it the perfect destination for hikers, bikers, and equestrians alike. In this article, we'll explore the various attractions and activities available at this remarkable park.
History and Preservation
The Triunfo Creek Park Canyons have a rich history dating back to the Chumash Native American tribe that once inhabited the area. The Chumash relied on the natural resources of the region, and today, their legacy is still evident in the form of rock art and ancient village sites that can be found throughout the park.
In recent years, the Santa Monica Mountains Conservancy and the Mountains Recreation and Conservation Authority have taken significant steps to preserve the natural beauty and ecological integrity of the area. Through their efforts, the Triunfo Creek Park Canyons have become a haven for native plants, wildlife, and cultural resources.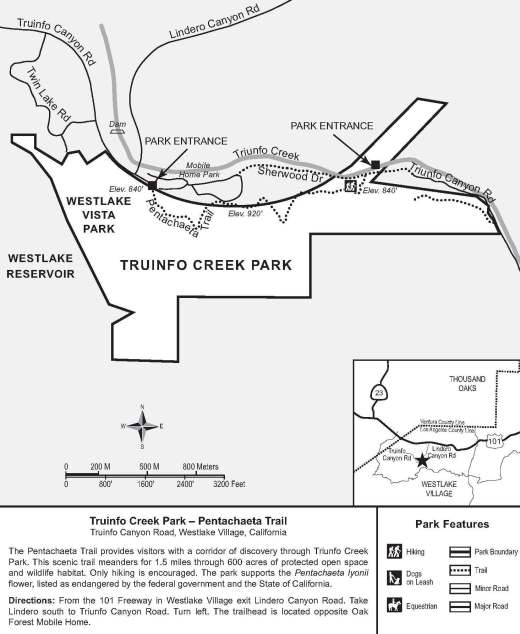 Trails and Activities
The Triunfo Creek Park Canyons boast an extensive network of trails that cater to a variety of skill levels and interests. Some of the most popular trails include:
Triunfo Creek Loop: This 4.3-mile loop trail winds through oak woodlands and picturesque meadows, offering stunning views of the surrounding mountains and the canyon itself. The trail is considered moderate in difficulty and is suitable for hiking, biking, and horseback riding.
Lobo Canyon Trail: A more challenging option, the 6.1-mile Lobo Canyon Trail takes visitors through dense chaparral and oak groves, along a seasonal creek, and past a beautiful waterfall. This trail is best suited for experienced hikers and bikers looking for a more demanding adventure.
Indian Creek Trail: This 2.5-mile trail is perfect for families and casual hikers, as it features gentle inclines and serene views of the canyon. Indian Creek Trail is also a popular choice for birdwatchers, as the area is home to a diverse array of avian species.
In addition to the trails, the Triunfo Creek Park Canyons offer several picnic areas, making it an ideal spot for a leisurely outdoor meal or a rest stop during your trek.
Flora and Fauna
The park's diverse ecosystem provides a habitat for an impressive range of plant and animal species. As you explore the canyons, you'll encounter a variety of native plants, including California live oak, coastal sage scrub, and wildflowers like lupine and poppies. The park is also home to numerous wildlife species, such as mule deer, coyotes, bobcats, and over 60 species of birds, including the endangered California gnatcatcher.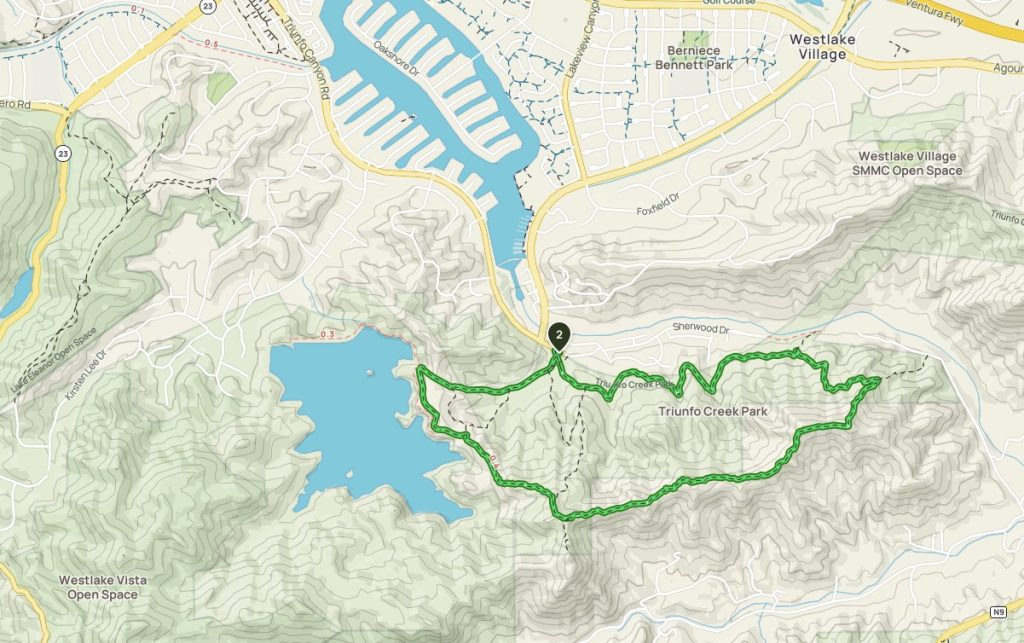 Visiting and Safety Information
The Triunfo Creek Park Canyons are open to the public from sunrise to sunset daily. There are no entrance fees or parking fees, making it an affordable destination for all visitors. Dogs are allowed on-leash in the park, but please respect the wildlife by keeping your pets under control at all times.
When visiting, always remember to practice Leave No Trace principles to help maintain the park's beauty and integrity. Carry out all trash, stay on designated trails, and avoid disturbing wildlife or picking plants.
The Triunfo Creek Park Canyons are a true gem for nature lovers and outdoor enthusiasts in Westlake Village. Offering an array of trails, stunning vistas, and abundant flora and fauna, this park provides the perfect opportunity for visitors to immerse themselves in the natural beauty of Southern California. Whether you're an experienced hiker seeking a challenging adventure or a family looking for a leisurely day outdoors, the Triunfo Creek Park Canyons have something for everyone. Don't miss out on the chance to explore this remarkable destination and create lasting memories in the great outdoors.